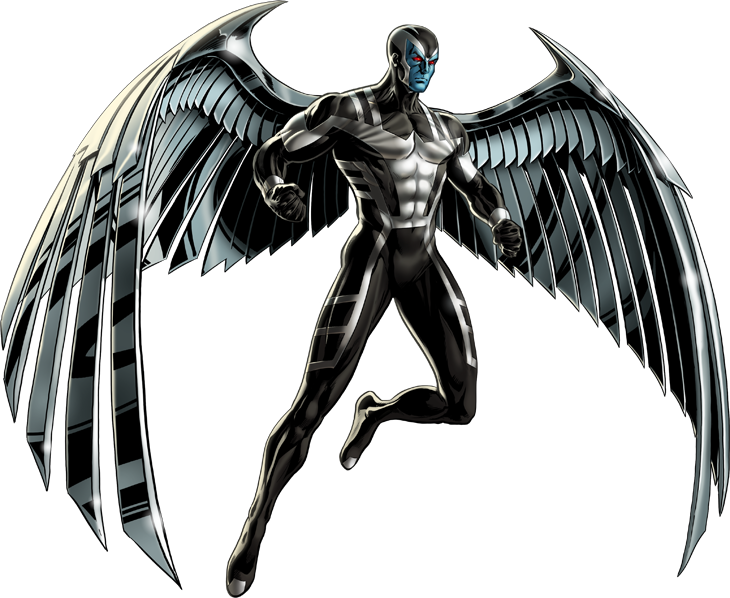 Bio:
Warren Worthington III's life of wealth and privilege was changed forever when his mutation manifested and caused wings to sprout from his back. He joined Professor Xavier's School for Gifted Youngsters and became a founding member of the X-Men. Later, he was transformed by Apocalypse into the Horseman of Death, Archangel. To this day he carries the mental scars of Apocalypse's brainwashing, as well as the bio-metallic wings that replaced his feathers. Newly gifted with rejuvenating abilities, the Angel seeks to help his allies and all those unable to protect themselves.
Recruitment Dialogue:
I may not be a true angel, but I can see the good in you, Agent.
What wounds we find, we will heal together.
 • Generalist - 135 CP
• Scrapper - 90 CP • Blaster - 90 CP
Passives
• Essence Reading   
• 
Chance to preemptively place Generalized on attackers
• Techno-Organic Wings   
• 
Immune to ground attacks   
• 
20% chance to avoid attacks
• Essence Reading   
• 
Chance to preemptively place Generalized on attackers
• Techno-Organic Wings   
• 
Immune to ground attacks   
• 
20% chance to avoid attacks
• Natural Selection    
• 
Allied Uncanny X-Force members gain Fatal Blow to their fourth action
Move List


Action 1: Absolution

Action 2: Rapture

Action 3: Aspersio

Action 4: Impositio Manus



Action 1: War

Action 2: Pestilence

Action 3: Famine

Action 4: Death

_________________